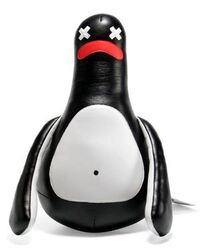 Plush, or Designer plush, a subcategory of designer toys, are soft, stuffed dolls created in limited quantities by artists and designers. Common designs include anthropomorphized animals or fantastic human likenesses, although designer plush dolls often feature entirely unique character designs. Designer plush dolls are usually given names and personas, with their distinctive personalities described on their tags or in booklets included in their packaging.
One noteworthy producer of designer plush is Friends With You, a commercial art and design collective based in Miami, Florida. Their work is characterized by a cute yet bizarre aesthetic, and exhibits a hand-made quality, even in pieces that are machine-made. In addition to their plush dolls, Friends With You also create modular wood toys, and motion graphics for companies such as Sony, MTV, Nike, and Columbia Records.
Another significant contributor to the popularity of designer plush are Uglydolls, created by independent toy designers David Horvath and Sun-Min Kim under the label Pretty Ugly. Their first products were 12" plush dolls based on drawings by David Horvath's, and handmade by Sun-Min Kim. As a result of their commercial success, Pretty Ugly has also produced 7" versions of their character designs, called Little Uglys, 24" versions called Giant Uglys, 4" miniatures intended for use as keychains, and in a departure from the plush medium, 7" Vinyl Uglys. Aside from Uglydolls, there is another major player in the designer plush world known as Shawnimals.
Other examples of designer plush include Hellhounds, created by Japanese character designer Touma and produced by Play Imaginative; the Gloomy Bear collection by Japanese graphic designer Mori Chack; the Furilla series by American artist Toren Orzeck; the Doudoupop brand by French designer Jamous; the Swedish Spök-spök brand by designer Daniel Svanberg, and Circus Punks, knockdown dolls (simple dolls with round, sand-filled bases used in carnival games) which are screen-printed and sewn by hand, each featuring a design by a different artist.